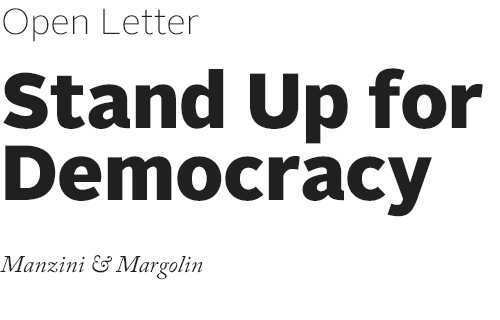 To the Design Communitiy:
It is important to ID+ DESIS Lab to support this Open Letter "Stand-Up for Democracy" from Ezio Manzini and Victor Margolin.
Designers are "special agents" inside society able to forsee what is new and, hopefully, act on that to foster better changes and have a positive impact in the present and in the future.
Present times show us that freedom and citizens' rights are facing new threats, even in democratic contexts we took for granted.
As agents of change, designers must have an active role identifying these threats, debating its origins and consequences, and, most important, developing sustainable social projects where the democratic principles are at their core.
Stand-up, speak out and design for the common good.
Teresa Franqueira
Coordinator of ID+ DESIS Lab
Member of the International Coordination Committee DESIS Network
———————————————
À Comunidade de Design:
O apoio à Carta Aberta "Stand-Up for Democracy" do Ezio Manzini e Victor Margolin reveste-se da maior importância para o ID+ DESIS Lab.
Os designers são "agentes especiais" dentro da sociedade capazes de antever o novo e actuar de forma a implementar mudanças com um impacto positivo no presente e no futuro.
A actual conjuntura mostra-nos que os direitos e liberdades dos cidadãos enfrentam novas ameaças, mesmo em contextos democráticos que até aqui se julgavam sólidos. Enquanto agentes de transformação os designers deverão ter um papel activo na identificação destas ameaças, no debate das suas origens e consequências e no desenvolvimento de projectos socialmente sustentáveis onde os princípios democráticos se encontrem no centro das suas soluções.
Envolvam-se, expressem-se e projectem a pensar no bem comum.
Teresa Franqueira
Coordenadora do ID+ DESIS Lab
Membro do International Coordination Committee DESIS Network