Design [In, And, For] Democracy
WELCOME
On November 29th the ID+ Desis lab will host the event Design [In, And, For] Democracy.
This is an initiative included in the DDP, the Democracy and Design Platform – an international movement that seeks to gather, analyze and give visibility to initiatives that are directly or indirectly linked to the issues posed by "Stand Up for Democracy": the open letter that Ezio Manzini and Victor Margolin addressed to the design community in March 2017.
DDP seeks to pursue the main purpose of the letter: stimulate activities which, by discussing the relationship between democracy and design, clearly express in a propositive and proactive way concerning the design world over the attacks on democracy currently underway in several countries.
Our event, hosted in the Universidade de Aveiro – Portugal, will gather representatives from the majority of the Portuguese Design School with experts from other fields, such as politics, city planning, social science, management, social innovation, among other, and will promote the interdisciplinary debate with this actors and academia.
As a keynote speaker we will have the pleasure to attend a presentation from Ezio Manzini, one of the world's leading experts on sustainable design, author of numerous design books, founder of DESIS (Design for Social Innovation towards Sustainability) and one of the authors of the Stand Up for Democracy open letter.
We invite everyone to join and participate in the debate!
See you in Aveiro,
The ID+ Desislab team!
Speaker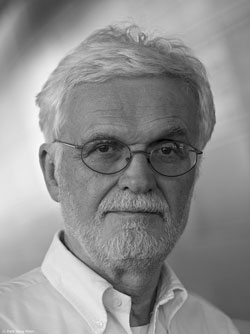 Ezio Manzini
Ezio Manzini, a leading thinker in design for sustainability, founded DESIS, an international network on design for social innovation and sustainability (http://www.desis-network.org). He is Honorary Professor at the Politecnico di Milano, Chair Professor at University of the Arts London, and currently guest Professor at Tongji University, Shanghai, and Jiangnan University, Wuxi.
Moderator
Mark Anderson
Mark Anderson is Director of The Europe Office at Glasgow Caledonian University. His overall remit is to heighten the University's research and innovation activities on the international stage, enhance international cooperation and increase student and staff mobility through EU programmes. Mark currently coordinates several EU funded projects including two Capacity Building projects to embed Social Innovation Support Units in Universities.
He organised several events promoting social innovation and was part of the organisational team launching a special research conference – Social Frontiers: The Next Edge of Social Innovation Research at GCU's London Campus in November 2013.
Mark is also a member of the board of directors of the Melting Pot, a social innovation incubator in Edinburgh and a member of the Social Innovation Exchange Global Council. He also play a number of advisory roles on European funding outside the University, including chair of the Universities UK Europe Network and an Erasmus+ advisory panel member.
Moderator
Michelangelo Secchi
Michelangelo Secchi is the Scientific Coordinator of the Empatia Project. He has a background in History and Public Management and has been working since 2003 as Consultant on communication and stakeholder management for Governments, NGOs and Local Authorities. His consultancy areas are local development, democratic governance strategies, citizen engagement in policy making processes and public sector accountability.
Program
November, 29th
9h.
reception
9.30h.
welcome
Manuel Assunção [UA Rector]
Rui Raposo [Department director]
Teresa Franqueira [ID+ DesisLab Coordinator]
9.45h.
keynote
Ezio Manzini
10.30h.
DESIS Philosophy Talk
Virginia Tassinari
Mark Andersson
Michelangelo Secchi
José Carlos Mota
11.15h.
break
[Video Session]
11.45h.
debate:
Design as a promoter of a participatory democracy
Mark Anderson [moderator]
Michelangelo Secchi [moderator]
Ana Thudichum Vasconcelos [FBAUL]
Carlos Costa [IPB]
Emilia Duarte [IADE]
Ezio Manzini
Gonçalo Falcão [FAUL]
Heitor Alvelos [FBAUP]
Luís Mota [IPVC]
Paula Tavares [IPCA]
Paula Trigueiros [UM]
Renato Bispo [ESAD-CR]
Teresa Franqueira [UA]
Teresa Sarmento [ESAD]
13h.
lunch break
14.30h.
DESIS Thematic Cluster Presentation:

Citizens, Communities, Commons (CCC)
Changing the city from inside. Design for city making projects
Ezio Manzini
Open Letter from Ezio Manzini & Victor Margolin
Stand-Up for Democracy

It is important to ID+ DESIS Lab to support this Open Letter "Stand-Up for Democracy" from Ezio Manzini and Victor Margolin.
Designers are "special agents" inside society able to forsee what is new and, hopefully, act on that to foster better changes and have a positive impact in the present and in the future.
Present times show us that freedom and citizens' rights are facing new threats, even in democratic contexts we took for granted.
As agents of change, designers must have an active role identifying these threats, debating its origins and consequences, and, most important, developing sustainable social projects where the democratic principles are at their core.
Stand-up, speak out and design for the common good.
Teresa Franqueira
Coordinator of ID+ DESIS Lab
Member of the International Coordination Committee DESIS Network
Schools
Participant Schools
ESAD · Escola Superior de Artes e Design – Matosinhos
Instituto Politécnico de Bragança · Escola Superior de Educação e Escola Superior de Comunicação, Administração e Turismo
Instituto Politécnico de Castelo Branco · Escola Superior de Artes Aplicadas
Instituto Politécnico de Leiria · Escola Superior de Artes e Design – Caldas da Rainha
Instituto Politécnico de Viana do Castelo · Escola Superior de Tecnologia e Gestão
Instituto Politécnico do Cávado e do Ave · Escola Superior de Design
Universidade da Madeira · Faculdade de Artes e Humanidades
Universidade de Aveiro · Departamento de Comunicação e Arte
Universidade de Lisboa · Faculdade de Arquitectura
Universidade da Lisboa · Faculdade de Belas de Artes
Universidade do Minho · Escola de Arquitectura
Universidade do Porto · Faculdade de Belas Arte
Universidade Europeia · IADE
Registration
We recommend everyone to register in the event through the Eventbrite platform. Especially if you are participating in large groups, such as student classes, it is important that you do so in advance.
Although registration is not mandatory, registered participants will have priority over those not registered.
.
Contact
ID+ DesisLab
Campus Universitário de Santiago, Universidade de Aveiro
3810-193 Aveiro
Portugal
Location
New Auditorium DeCA – Departamento de Comunicação e Arte
Universidade de Aveiro
.
Organization